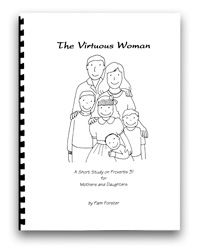 A precise bible study for mothers and daughters that is geared towards the younger maid servants in training, covering some key topics for becoming
the virtuous woman
.
Study one is spent exploring Proverbs 31, reviewing what the life of the virtuous woman would look like, covering her thoughts, speech, home management and her outreach. The rest of the studies build upon three main themes, the first is 'reaching forth' and understanding hospitality. The second is learning to understand what 'the law of kindness' is, followed by an in depth study on the tongue and just 'what is' being contentious.
Finally, Ms. Foster concludes the study with 'eating the bread of idleness'… here begins our understanding of slothfulness, defining 'what is a sluggard' and the importance of 'going to the ant'. We rediscovered why it is such a blessing to 'go to the ant' and reading the notes Pam shared on this topic were dead on and very encouraging.
This was by far my favorite part of the study, because for our family it is such a serious topic, and this idea of working hard is often a foreign concept in our modern day ease. Generally speaking, many have lost the biblical importance of hard work along with the valuable life lessons we can learn from working hard, so I was very encouraged by this.
Also I love how the Hebrew words are defined and how we gain this amazing awareness of being a watchman... well in our case it is being a watch woman for our home and our family. I think a young lady, and her mother, would find this book useful and applicable for many areas of her life. You can also view a
sample page
if your interested!
Note-ables:
Card stock cover, Comb bound
41 Pages, Black and White
Includes Scripture Study w/ some hands-on activities.
Recommended age: 6 - 14
Uses KJV translation
Disclosure: I received a free copy of The Virtuous Woman/Doorpost for my honest and frank review. No other compensation was received. Please see my disclosure policy at the bottom of my blog for more details. Thank you!